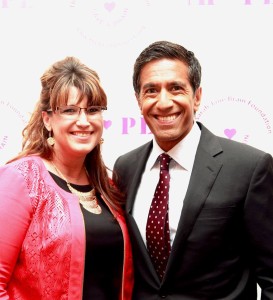 Teresa Morros receives Cynthia Gibbs Angel Award Parent advocate recognized for advancing the field of PABI
NEW YORK, NY – The Sarah Jane Brain Foundation announced Teresa Morros will receive the Cynthia Gibbs Angel Award where Dr. Sanjay Gupta (chief medical correspondent for CNN and a practicing neurosurgeon) will be in attendance and presenting awards. These prestigious awards are named after the leading experts in the world dealing with brain injury (the number one cause of death and disability for children and young adults up to age 25 in the U.S.), and are being given to some of the most prominent and accomplished members of the Pediatric Acquired Brain Injury (PABI) community, in recognition for their hard work and dedication to furthering the field.
The Cynthia Gibbs Angel Award is presented to a parent or caregiver of a child or young adult with a PABI who has significantly advanced the field of PABI through their advocacy.
Angel Award Recipient: Teresa Morros; is the mother of 23-year-old Josh Morros who suffered a severe brain injury as the youngest professional off-road motorcycle rider when he was 16 years-old; Josh set up an organization, Because I Can, and he bicycled across the country (2788 miles) with his mother and father riding behind him to raise awareness of brain injury – Prevention and Recovery. Along with her dedication in youth prevention, she has a passion for enhancing much needed aftercare programs for brain injury survivors, she is currently the Executive Director of Brain Recovery Assistants Institute of Nevada (B.R.A.I.N.)
About Cynthia Gibbs: Cynthia was shaken and killed by her baby-sitter when she was just eight months old; her legacy lives on in the daily advocacy her father, Darryl, has provided to hundreds of families across the country.